WHY WATERPROOFING
HOW TO WATERPROOF
What is the single waterproofing product for my home? 
MULTIPROOF LWC is one such product. It should be used every time you do any kind of concrete and plastering work. MULTIPROOF LWC helps in eliminating capillaries in the concrete & plaster making the structure free from cracks & damps and thus waterproofing it.
In turn, the structure becomes resistant to corrosion. MULTIPROOF LWC also improves the workability of the concrete and increases the compressive strength of the concrete.
However, other MULTIPROOF products also need to be used to ensure a completely waterproofed structure.
How regularly does one need to waterproof the structure? 
If waterproofing is carried out comprehensively with proper care & good quality products then you can consider your home waterproofed for several years to come. However, in cases of structural repairs, modifications & alterations in the structure, subsequent need for MULTIPROOF waterproofing products will be needed.
How much does it cost to waterproof my home? 
You do not have to spend anything extra when you compare with the conventional method of waterproofing. MULTIPROOF's modern method of waterproofing at affordable prices will ensure a leak-free home for years to come.
Are modern methods better than the conventional waterproofing methods?
It is true that the conventional methods are being used for years. However, it needs to be understood that with changing times the pressure on structure has increased manifolds. In this water percolates through conventional methods leading to cracks in the structure thus leading to leakage, dampness & seepages. Once this process begins it becomes very difficult from preventing the structure from deteriorating. Modern age products by MULTIPROOF are developed after extensive R&D. These products are developed keeping in mind the challenges of construction.
To ensure the longevity of your homes, MULTIPROOF products are recommended.
WHEN TO WATERPROOF
MONSOON TIPS TO AVOID LEAKAGES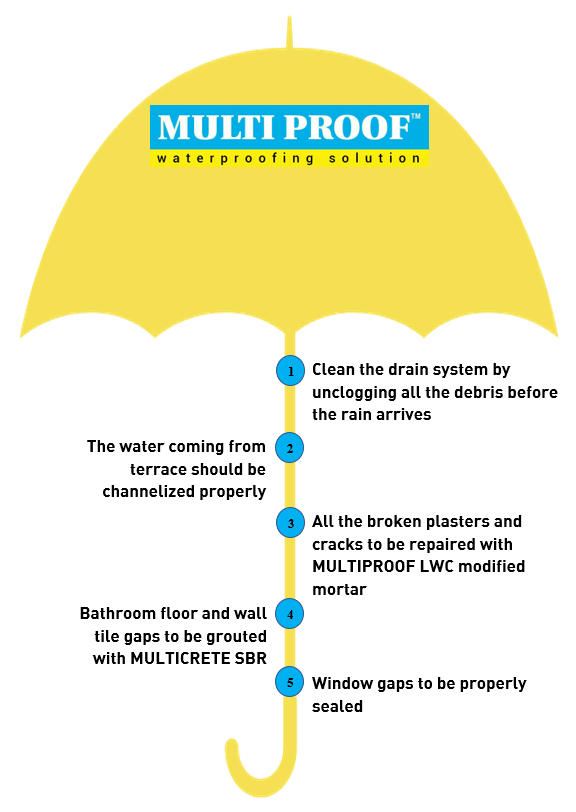 What is the right season to waterproof my home? 
Prevention is better than cure and waterproofing should be done while building the structure only. However, the right time is to carry out waterproofing well before monsoon begins.
Should waterproofing happen while building the structure or post it when the need be?
Waterproofing is as essential a process as laying a good foundation. Waterproofing with MULTIPROOF should happen from the very time the structure is being built. We have a range of products looking at each area such as foundation, terrace & proposing the correct product.
However, if this is not done MULTIPROOF has a wide range of remedial products too.